Skip to Main Content
It looks like you're using Internet Explorer 11 or older. This website works best with modern browsers such as the latest versions of Chrome, Firefox, Safari, and Edge. If you continue with this browser, you may see unexpected results.
Overview
Digital Exhibitions involves digitally publishing content for a rich learning experience, across all disciplines. Different tools and platforms are used depending on your needs. For instance, we build and maintain the Omeka platform, which students and faculty alike can easily build their own custom pages and sites in order to present their research in a visually interesting and interactive way. There is also Digital Works, which is well suited for presenting and archiving student theses, poster presentations and more.
Techniques
Storytelling:
In addition to writing a paper, using visuals adds another valuable level of engagement when it comes to presenting a narrative from your research and collected material. Those visuals can include image galleries, timelines, and maps which will bring that narrative to life.

Metadata:
It is important to organize your materials and describe them so that others can find and understand your work. Metadata ("data about data") can be fields like title, description, or date. These add meaning to your work, so you want to take some time to ensure that there is a way to express them. File names that are similar to one another can be hard to organize; items that have no titles can be hard to find. Metadata and good file naming help solve these problems.
Tools
Omeka Tools:
When creating a site in Omeka, you can use a variety of tools, or modules, to complete your narrative. We have written a help section here on how to use Omeka. We will be adding instructional videos also in the near future. The following is just a few examples of tools that you can use in Omeka.
Maps (mapping module)
You can create maps with various stylistic overlays to choose from (watercolor, black & white, standard, etc).
The maps contain your clickable items which engage the user to learn more.
Your map(s) can also present a timeline (coming soon).

Commenting
You can engage your audience to comment on specific items and you have the ability to make this public or private. For example, you can engage and welcome critiques on a piece of artwork.

Tagging (Folksonomy module)
You can assign tags or keywords to each of your items (images, audio, PDF) which is useful for establishing relationships with other items and helping users filter through items that share similar qualities.

Media Viewer (Universal Viewer module)
You can present an image or PDF with this viewer, which allows you to zoom in and out, rotate, download (optional), and click through pages of a PDF without having to open in another window.

Projects
The COVID-19 Project: Social Distancing stories from the Union Community.
This is an Omeka based website using the mapping module to display where members of the Union community are Social Distancing. It also utilizes tagging, or the "Folksonomy" module in Omeka, to help you find stories that share a similar subject matter. (ex. food, pets, new hobbies, etc).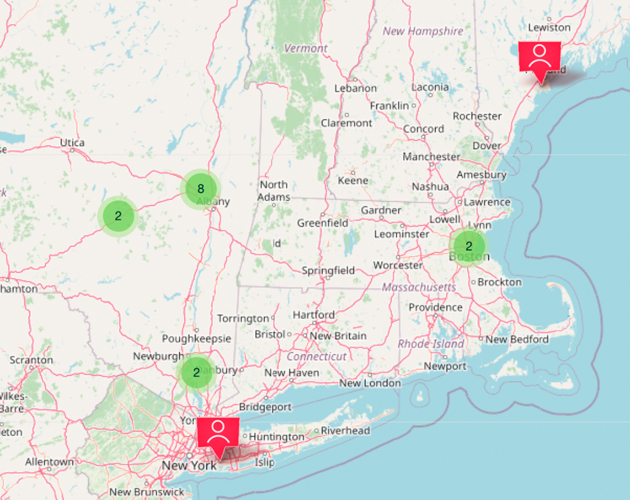 Student made site: "Nott from a Distance"
This Omeka based site was built by a student using provided templates and color schemes that are easily chosen by the user. The student used the Collecting Form module and encouraged those from the community to submit their photos, art, or written works dedicated to the Nott Memorial.